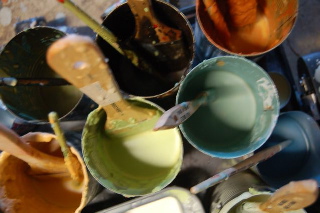 Encaustic paintings are made by dissolving color in hot wax and brushing the colored wax onto the painting.
Color can be added to the wax in different ways--I use either a bit of oil paint or dry pigment. I also use pre-made, colored encaustic medium. The colored medium is melted and painted on to a panel in layers. I usually use a plumbing torch to heat each layer just enough to fuse it to the layer below.
The image is made by brush painting, splashing paint or encaustic medium, drawing with dry pigment, or scratching lines into the surface of the wax, and filling in the lines with paint or encaustic medium.
The surface is made more interesting by scraping the surface down flat and seeing what is left behind. Then I might add another layer of wax or print or draw on tissue paper and float that on the surface of the wax.
Encaustic has a lot of physical, sensual beauty because the wax itself has a warmth and translucence and depth. It even smells nice. For me, it combines the best elements of drawing, painting, cooking and home repair.